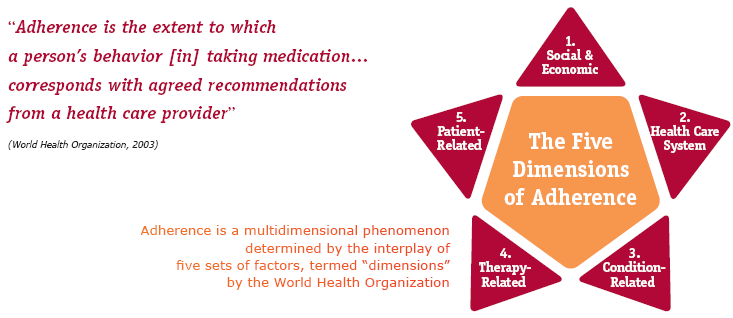 WHAT IS MEDICATION NONAHDERENCE? The extent to which individuals take their medications as prescribed by their doctor is known as medication adherence. Failure to take medications as prescribed is termed nonadherence. Medication nonadherence, either willful or inadvertent, can include:
Failing to initially fill or refill a prescription
Discontinuing a medication before the course of therapy is complete
Taking more or less of a medication than prescribed
Taking a dose at the wrong time.
WHAT ARE THE CONSEQUENCES OF NONADHERENCE? The consequences of medication nonadherence in older adults may be more serious, less easily detected, and less easily resolved than in younger age groups. If medication nonadherence were a disease, it could be termed an "epidemic." Medication nonadherence accounts for more than 10% of older adult hospital admissions, nearly one-fourth of nursing home admissions, and 20% of preventable adverse drug events among older persons in the ambulatory setting. It is estimated that medication nonadherence results in 125,000 deaths annually, and costs the US health care system $100 billion per year.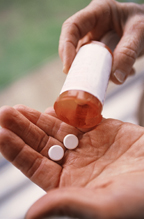 IDENTIFYING OLDER ADULTS WHO ARE AT RISK The identification of older adults at risk for medication nonadherence, and attempts to improve adherence should not be the purview of health care professionals alone. Senior centers, adult day care programs, leisure clubs, health fairs, and congregate meal sites provide venues in which older adults can be encouraged to self-identify for problems with medication adherence. Many community-based senior service providers are also in a position to address some of the social and economic factors that affect medication adherence.
WHAT IS ADULT MEDUCATION? The American Society on Aging (ASA) and the American Society of Consultant Pharmacists (ASCP) Foundation have collaborated on the development of Adult Meducation: Improving Medication Adherence in Older Adults, a web-based program to educate ASA and ASCP members on important aspects of medication adherence in older adults. One goal of the program is to encourage ASA members to work together with ASCP member pharmacists to identify, resolve, and prevent medication nonadherence in the older adults served by community-based service providers. This website contains:
Information on factors that influence medication adherence, barriers to adherence, and specific strategies to improve adherence
Tools to identify older adults at risk for medication nonadherence
Resources to improve medication adherence
Materials to educate older adults about the importance of medication adherence
Educational programs targeted at community-based service providers and health professionals
Links to other useful web resources.
Materials on the web site can be copied or downloaded for use in educational or training programs.