Low literacy, lack of health insurance coverage, poor social support, family instability, and homelessness are the most consistently reported factors to impact medication adherence (Krueger et al., 2005). People who have social support from family, friends, or caregivers to assist with medication regimens have better adherence to treatment. Unstable living environments, limited access to health care, lack of financial resources, cost of medication, and burdensome work schedules have all been associated with decreased adherence rates. The amount of education a person has may influence adherence; however, understanding the importance of the treatment and the treatment instructions may be more important factors than level of education (Krueger et al., 2005).
Low health literacy and limited English language proficiency are barriers to adherence that deserve special consideration. Health literacy is the ability to read, understand, and act on health information in order to make appropriate health decisions. Poor health literacy results in medication errors, impaired ability to remember and follow treatment recommendations, and reduced ability to navigate within the health care system.
People with low health literacy and limited proficiency in the English language are at high risk for unsafe use of prescription medications due to the complex nature of the printed information that is available (which often requires reading skill at the high school level or above in order to understand it), and because these people often do not receive sufficient time or adequate verbal communication from health care providers (National Quality Forum, 2005).
Nearly 90 million people - 45% of the adult population in the US - have literacy skills at or below the 8th grade reading level (Scott, 2003). Inadequate health literacy increases steadily with age, from 16% of those aged 65-69 to 58% of those over age 85 (Gazmararian et al., 1999). Literacy levels are lowest among the elderly, those with fewer years of education, lower socioeconomic levels, minority populations, and those with limited English proficiency (Krueger et al., 2005). Nearly one in five adults in the US reported speaking a language other than English at home in the 2000 US Census (US Census Bureau, 2000).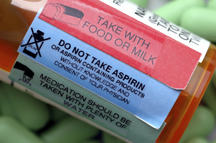 Older adults with low health literacy may have trouble reading health information materials, following prevention recommendations, understanding basic medical instructions, and adhering to medication regimens (Scott, 2003). A study of patients aged 60 years and older at two public hospitals found that 81% could not read and understand basic materials, such as prescription labels (Williams et al., 1995).
People with low health literacy or limited English language proficiency may be unaware of the health risks associated with medication nonadherence, and may be too ashamed or embarrassed to seek help with medication instructions (Mayeaux et al., 1996). The US Healthy People 2010 goals note the need for better education for people with limited health literacy in order to avoid problems associated with improper medication use (US Department of Health and Human Services, 2000). The need to move quickly to implement strategies to improve adherence among persons with limited health literacy has been identified as a high priority by the National Quality Forum (National Quality Forum, 2005).
The Rapid Estimate of Adult Literacy in Medicine Revised (REALM-R) is a brief screening instrument used to assess a person's ability to read common medical words. It is designed to identify people at risk for poor literacy skills. (See discussion in Dimension 5 and Assessment Tools sections)
There are many programs and resources addressing health literacy. "Ask Me 3" is a patient education program designed to promote communication between health care providers and patients in order to improve health outcomes. "Ask Me 3" suggests three simple but important questions people can ask their health care providers:
What is my main problem?
What do I need to do?
Why is it important for me to do this?
"Ask Me 3" is sponsored by the Partnership for Clear Health Communications, a national coalition of health organizations that are working together to promote awareness and solutions for low health literacy. Funding is provided by Pfizer (http://www.pfizerhealthliteracy.org). The "Ask Me 3"web site (http://www.askme3.org) includes presentation tool kits for professionals and patients, fact sheets, brochures, statistics, logos and guidelines, and other information.

Pictures and diagrams can be used to communicate information to all people, especially those with limited health literacy. Most people, even those who read well, use visual clues to reinforce learning. The United States Pharmacopeia (USP) has developed pictograms that help convey medication instructions, precautions, and/or warnings. USP Pictograms are available at: www.usp.org/audiences/consumers/pictograms/.
BARRIER
STRATEGIES

Limited English language proficiency

Do not talk loudly or exaggerate speech

Do not direct communication to companion

Use translator

Provide written information in relevant language

Use nonverbal cues and body language

Use pictures, diagrams, or pictograms to help communicate information

Verify understanding by having the person "teach back" the instructions they have been given (explain to them what they need to do, breaking up the information into understandable parts; then ask the person to repeat what they have heard)

Reinforce information with a family member if available and appropriate

Low health literacy

Create a "shame free", safe environment where the person feels comfortable talking openly

Avoid mentioning you suspect a reading problem

Use plain language instead of technical language or medical jargon

Give clear verbal instructions

Provide information written at a fifth grade or lower level; use large font size

Use pictures, diagrams, or pictograms to help communicate information

Use video instruction

Verify understanding by having the person "teach back" the instructions they have been given (explain to them what they need to do, breaking up the information into understandable parts; then ask the person to repeat what they have heard)

Involve family members in teaching sessions

Telephone follow-up to determine how the person is doing